2019 Northern Open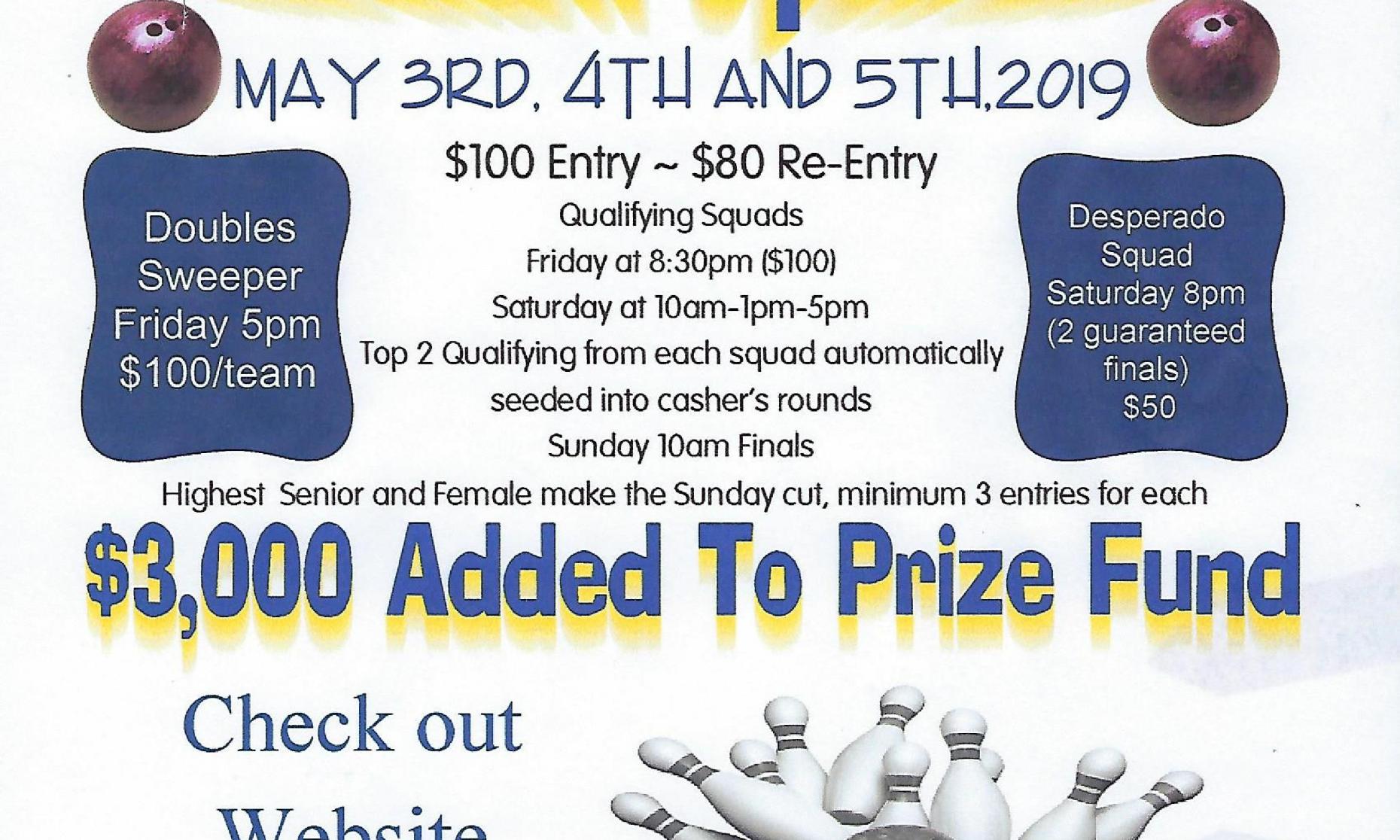 Center:
Northern Lanes
Oil Pattern:
MSBS Crud Muffin
(43 feet)
Entry Fee:
$100/$80
ADDED MONEY -- $3000 THANKS TO OUR SPONSOR GARBER CHEVROLET
QUALIFYING SQUADS
A Squad -- Friday @ 8:30pm. Check-in starts at 7:30pm.
B Squad -- Saturday @ 10:00am Check-in starts at 9am.
C Squad -- Saturday @ 1:00pm (could start later if A squad is big)
D Squad -- Saturday @ 5:00pm
Desperado Squad -- Saturday @ 8:00pm
FORMAT
Qualifying: 5-games across 5 pairs of lanes.
Sunday Casher's Round: Cut to top 25 plus one lady and one senior if a lady and senior did not qualify (based on a field of 100 entries), and those bowlers come back on Sunday with pins starting fresh. The top 2 bowlers from each squad are gauranteed to move on to Sunday's Casher's Round as part of the 25 (or 26 or 27) total moving on to Sunday.. The cut to Sunday will be an overall cut after combining scores from each qualifying squad. Cashers bowl 5 games Sunday morning at 10am and then cut to the top 12 (based on 100 total entries. With fewer than 96, the cut will be to the top 8; with 96-160 bowlers the cut will be to the top 12 with 4 BYES in round 1 of Match Play, and with more than 160 the cut will be top 24 with top 8 getting BYES). Remaining bowlers will compete in a seeded, single-elimination bracket, 2-game total pinfall in each round. Bracket will be reseeded in the top 8 or top 16 only if lower seeds win matches in the round of 12 or 24.
Prize Ratio: 1 in 4 entries will cash in this event
FORMAT IS BASED ON 100 ENTRIES
Desterpado -- 2 games total pinfall, and the desperado will have it's own 1 in 10 cut with the minimum of 2 bowlers advancing to Sunday's cashers round. $50 entry fee and is only open to anybody who has previously bowled in one of this year's squads.
RE-ENTRY RULES
With the top 2 from each squad automatically qualifying to Sunday, we will start at the highest non-auto-qualifiers (is two dashes legal like that?) and work down the list, however, first time entries get first dibs. Then we will allow those who already qualified to bowl again if they wish to do so for side action.
INCENTIVES
With a minimum of 3 senior bowlers (50 and up), one senior will be guaranteed to the Sunday Cashers round
With a minimum of 3 lady bowlers, one lady will be guaranteed to the Sunday Cashers round
CONTACT
Brian Regan
cell (810) 240-6175
email brian@scratchbowling.com
Match 1
Match 2
Match 3
Match 4
The actual payout of this event will be posted here once the event has begun, and we know the number of entries.
Payout Scenario
100 entries (60 full entries + 40 re-entries)
1st -- $2000
2nd -- $1000
3rd/4th -- $600
5th to 8th -- $420
9th to 12th -- $300
13th -- $220
14-15 -- $200
16-17 -- $190
18-19 -- $180
20-21 -- $170
22-23 -- $160
24-27 -- $150
Entry Breakdown $75/$55
prizes, $5
expenses, $20
lineage
$75
x 60 entries = $4500 + $55 x $40 entries = $6700
Total Payout = $9700
The optional side action results will be posted here at the conclusion of the tournament
OPTIONAL SIDE ACTION

Regular Jackpot--$30 entry

This jackpot pays out high game for each game and highest series.  With high participation, 2 spots will be paid per game and 2 spots for totals.

 

100% OF JACKPOT MONEY IS PAID OUT

Extra Totals Jackpots--$40 entry

3 additional Totals Jackpots will be available at $40 per jackpot.  Each Totals Jackpot will work as follows:

At least 1 in 4 will cash in each Jackpot

Payout is based on qualifying totals only

$35 per entry goes to prize fund, $5 to expenses

Brackets--$5/bracket
Set 1 will run for games 1-2-3
Set 2 will run for games 2-3-4
Set 3 will run for games 3-4-5
1st is $25 in each bracket
2nd is $10 in each bracket
- - - - - - - - - - - - - - - - - - - -
*there is a limit of 200 brackets per set per person