2013 Toledo War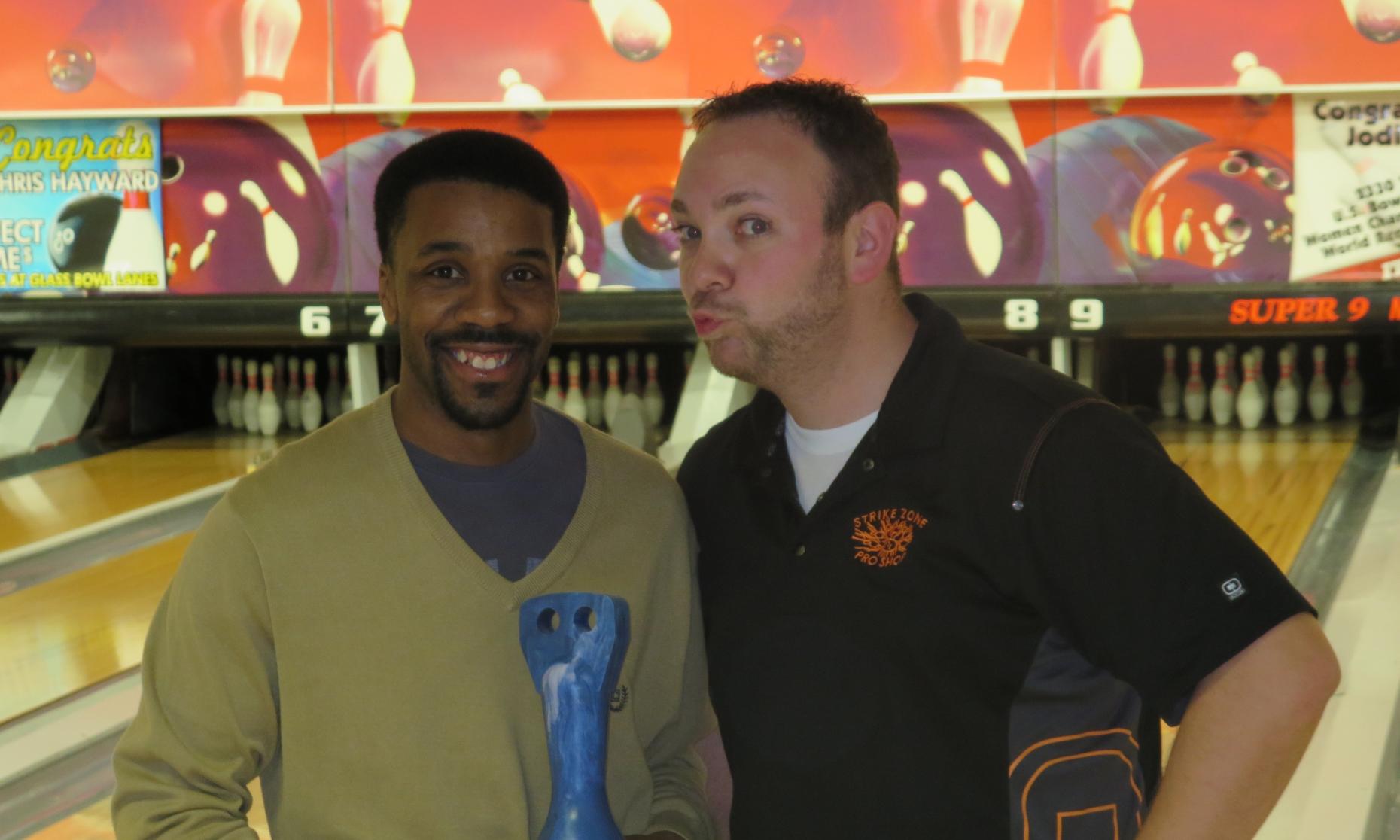 Champion Mason Brantley and Runner-Up JR Raymond
Center:
New Glass Bowl Lanes
Oil Pattern:
MSBS 44
(44 feet)
Entry Fee:
$85
Check-in starts @ 8:30am, closes at 10:00am
Paddock @ 10:15am
Bowl @ 10:30am

Qualifying: 6-games across 6 pairs of lanes.
Match Play: Cut to top 16 (based on 90 entries), then bowlers are seeded into a bracket. 2-game matches until top 4 remain. Stepladder for top 4 based on 10 game total pinfall on the day.
Prize Ratio: 1 in 4 bowlers will cash

<>FIELD IS LIMITED TO THE FIRST 90 PAID ENTRIES<>

<><><>NEW SENIOR INCENTIVE<><><>
With a minimum of 4 senior bowlers (50 and up), the highest non-cashing senior bowler will receive $85

<><><>NEW LADIES INCENTIVE<><><>
With a minimum of 4 lady bowlers, the highest non-cashing lady will receive $85

Thank you to Brunswick for donating a bowling ball to the high qualifier of this event!!!

Side Action
$25 Jackpots (pays 2 spots per game, 3 spots for totals)
$5 brackets (set 1 is games 1-2-3, set 2 is games 4-5-6)

<>NEW $40 TOTALS JACKPOTS<><>
We will offer up to 3 additional totals jackpots at $40 apiece. $35 will go to the payout, and $5 will go to expenses. Prize ratio is 1 in 4 entries. With 20 entries in one of the jackpots, the total purse would be $700. Payout would go as follows...1st $280, 2nd $180, 3rd $100, 4th $80, 5th $60.

Contact Brian Regan to register (810) 240-6175, brian@scratchbowling.com
* Top 12 bowlers made the cut to match play. Earon Vollmar won a 9th-10th frame roll-off for the 12th position.
Match 1
Match 2
Match 3
Match 4
Match 1
Match 2
Match 3
Match 4
| Position | Bowler | Payout |
| --- | --- | --- |
| 1 | Mason Brantley | $1000 |
| 2 | JR Raymond | $500 |
| 3 | Earon Vollmar | $325 |
| 4 | Charles Easton | $225 |
| 5 | Chris Hayward | $140 |
| 6 | Gary Schluchter | $140 |
| 7 | Joe Bailey | $140 |
| 8 | Dan Pollak | $140 |
| 9 | Mike Keith | $85 |
| 10 | Tracy Damm | $85 |
| 11 | Aaron Hawkins | $85 |
| 12 | Robert Mireles | $85 |
| Highest Non-Qualifying Lady | Jodi Woessner | $85 |
30 ENTRIES IN JACKPOTS­­
GAME 1 ($60, $30)
278 -- Josh Brown
265 – B.J. Satkowski
 
GAME 2 ($60, $30)
278 – Charles Easton
235 – Joe Bailey
 
GAME 3 ($60, $30)
278 – J.R. Raymond
247 – Lonnie Jones
GAME 4 ($60, $30)
269 – J.R. Raymond
258 – Mike Keith
GAME 5 ($60, $30)
268 - Mason Brantley
256 - Lonnie Jones
 
GAME 6 ($60, $30)
257 – J.R. Raymond
257 – Tracy Damm
 
TOTALS ($120, $60, $30)
1420 – J.R. Raymond
1343 – Joe Bailey
1321 – Mason Brantley