May 3, 2016 - Forest View Lanes Temperance Sweeper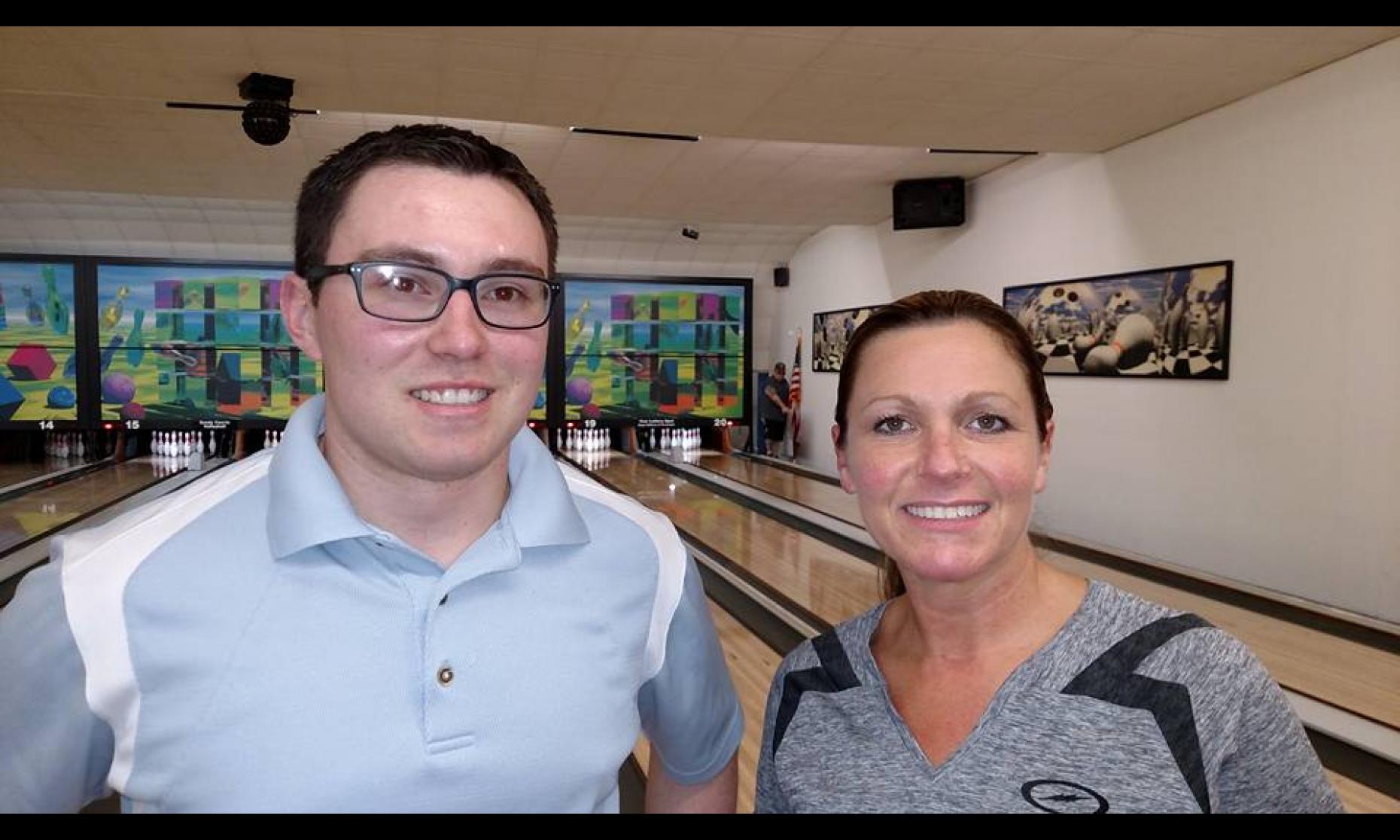 Runner-Up Sean Black & Champion Jodi Woessner
Center:
Forest View Lanes
Oil Pattern:
Kegel Kode Sport Series 2839
(39 feet)
Entry Fee:
$40
QUALIFYING
Squad A -- 7:30pm
Check-In -- 6:00pm - 7:15pm
FORMAT
Qualifying: 4-games across 4 pairs of lanes.
Match Play: Cut to top 15 (based on 60 entries), then bowlers are seeded into a bracket. Single-game elimination matches for those who qualify.
Prize Ratio: A minimum of 1 in 4 entries will cash in this event.
FORMAT IS BASED ON A FIELD OF 60 BOWLERS
SWEEPER SERIES POINTS
We will be running bi-weekly sweepers as part of a series this summer in the Greater Toledo area. We are not currently planning on running a point system for these sweepers, however we hope it will develop into something bigger with some added prize money next summer.
CONTACT
Brian Regan
cell (810) 240-6175
email brian@scratchbowling.com
Match 1
Match 2
Match 3
Match 4
The actual payout of this event will be posted here once the event has begun, and we know the number of entries.
Payout Scenario #1
Payout Scenario #2

30 entries
1st -- $340
2nd -- $170
3rd/4th -- $85
5th to 8th -- $40


Entry Breakdown $28 prizes, $4 expenses, $8 lineage
$28 x 30 entries = $840
Total Payout = $840

60 entries
1st -- $560
2nd -- $280
3rd/4th -- $140
5th to 8th -- $75
9th to 15th -- $40

Entry Breakdown $28 prizes, $4 expenses, $8 lineage
$28 x 60 entries = $1680
Total Payout = $1700
OPTIONAL SIDE ACTION

Regular Jackpot--$10 entry

Each game:  $2 per entry goes to 1st

Totals:  $2 per entry goes to 1st

 

Super Jackpot -- $30 entry

Each game:  $5 per entry
Totals:  $5 per entry
Best 2:  $5 per entry
 

100% OF JACKPOT MONEY IS PAID OUT

Brackets--$2/bracket

Set 1 will run for games 1-2-3
Set 2 will run for games 2-3-4
1st is $10 in each bracket
2nd is $4 in each bracket