October 25, 2014 - Pampa Lanes Warren Open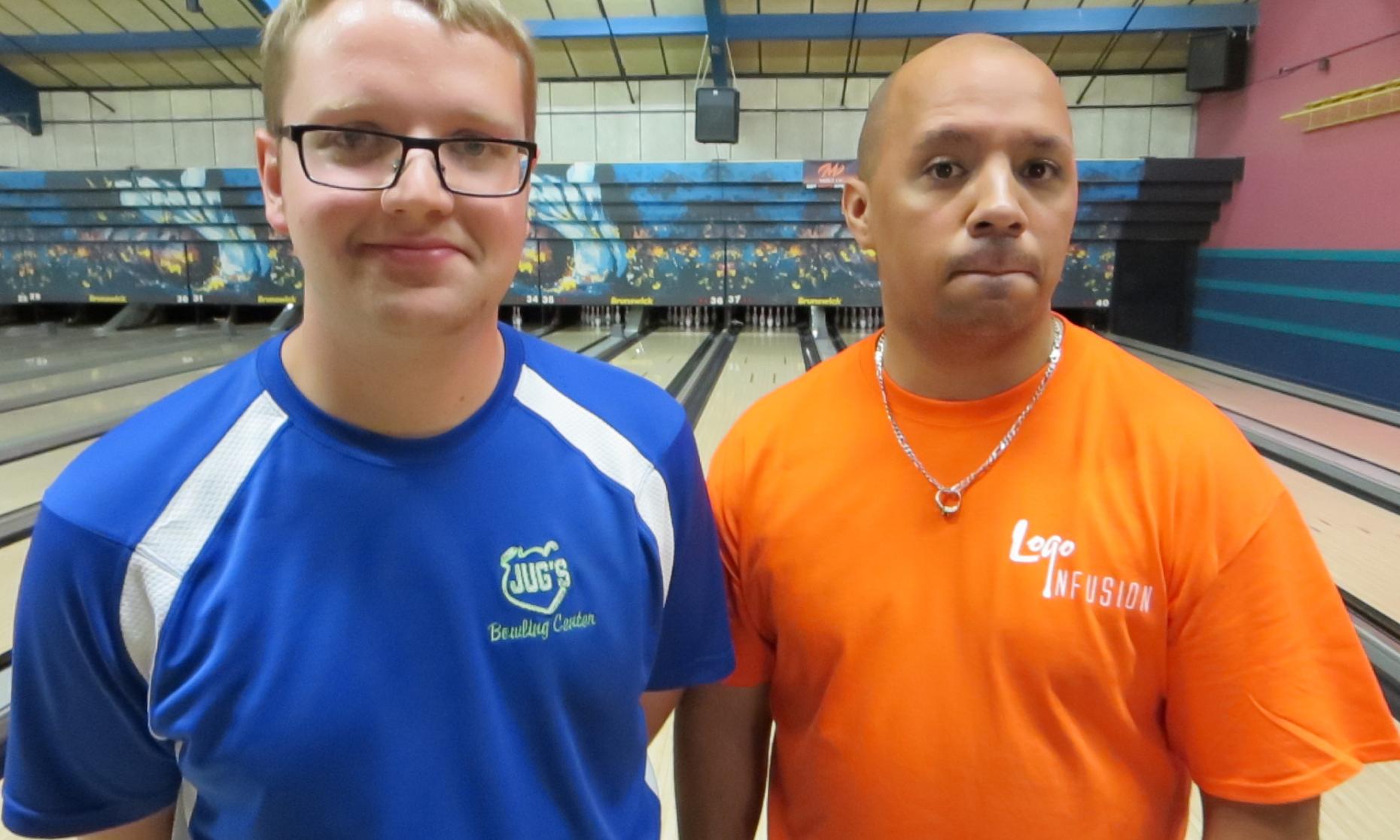 Runner up Charles Easton and Champion Ronnie Sparks, Jr.
Center:
Pampa Lanes
Oil Pattern:
MSBS 44
(44 feet)
Entry Fee:
$85
$1500 GUARANTEED FOR FIRST PLACE
QUALIFYING SQUADS
Squad A -- 11:00am
Check-In -- 9:30am - 10:45am
FORMAT A
Qualifying: 6-games across 6 pairs of lanes.
Match Play: Cut to top 25 (based on 100 entries), then bowlers are seeded into a bracket. 2-game matches until top 4 remain. Stepladder for Top 4.
Prize Ratio: A minimum of 1 in 4 entries will cash in this event
FORMAT IS BASED ON A FULL FIELD OF 100 BOWLERS

INCENTIVES
With a minimum of 3 senior bowlers (50 and up), the highest non-cashing senior bowler will receive $100
With a minimum of 3 lady bowlers, the highest non-cashing lady will receive $100
CONTACT
Brian Regan
cell (810) 240-6175
email brian@scratchbowling.com
* Top 12 bowlers made the cut. Top 4 received a bye in the first round of match play.
Match 1
Match 2
Match 3
Match 4
Match 1
Match 2
Match 3
Match 4
We are selling 3 sheets of football squares for the UM vs MSU game, and profits will go toward this event's prize fund. Bowling balls are given away as prizes instead of money to the winners of the squares.
Payout Scenario #1
Payout Scenario #2

60 entries NEW PAYOUT
1st -- $1100 $1500
2nd -- $550 $750
3rd -- $350 $450
4th -- $250 $350
5th to 8th -- $175 $190
9th to 15th -- $100

*Highest non-cashing Senior -- $100
*Highest noncashing Lady -- $100

*must have a minimum of 3 in each division

Entry Breakdown $63 prizes, $8 expenses, $14 lineage
$63 x 60 entries = $3780
Total Payout = $3850 $4710

100 entries (full) NEW PAYOUT
1st -- $1500 $1700
2nd -- $750 $850
3rd -- $450 $600
4th -- $350 $500
5th to 8th -- $250 $300
9th to 16th -- $175 $180
17th to 25th -- $100
*Highest non-cashing Senior -- $100
*Highest noncashing Lady -- $100

*must have a minimum of 3 in each division

Entry Breakdown $63 prizes, $8 expenses, $14 lineage
$63 x 100 entries = $6300
Total Payout = $6550 $7390
The optional side action results will be posted here at the conclusion of the tournament
OPTIONAL SIDE ACTION

Regular Jackpot--$25 entry

Each game:  $2 per entry goes to 1st

                  $1 per entry goes to 2nd
Totals:  $4 per entry goes to 1st
            $2 per entry goes to 2nd
            $1 per entry goes to 3rd
 

100% OF JACKPOT MONEY IS PAID OUT

Extra Totals Jackpots--$40 entry

3 additional Totals Jackpots will be available at $40 per jackpot.  Each Totals Jackpot will work as follows:

At least 1 in 4 will cash in each Jackpot

Payout is based on qualifying totals only

$35 per entry goes to prize fund, $5 to expenses

Brackets--$5/bracket
Set 1 will run for games 1-2-3
Set 2 will run for games 4-5-6
1st is $25 in each bracket
2nd is $10 in each bracket
- - - - - - - - - - - - - - - - - - - -
*there is no limit on the number of brackets that may be entered