March 7-8 2015 - Holly Small Town Challenge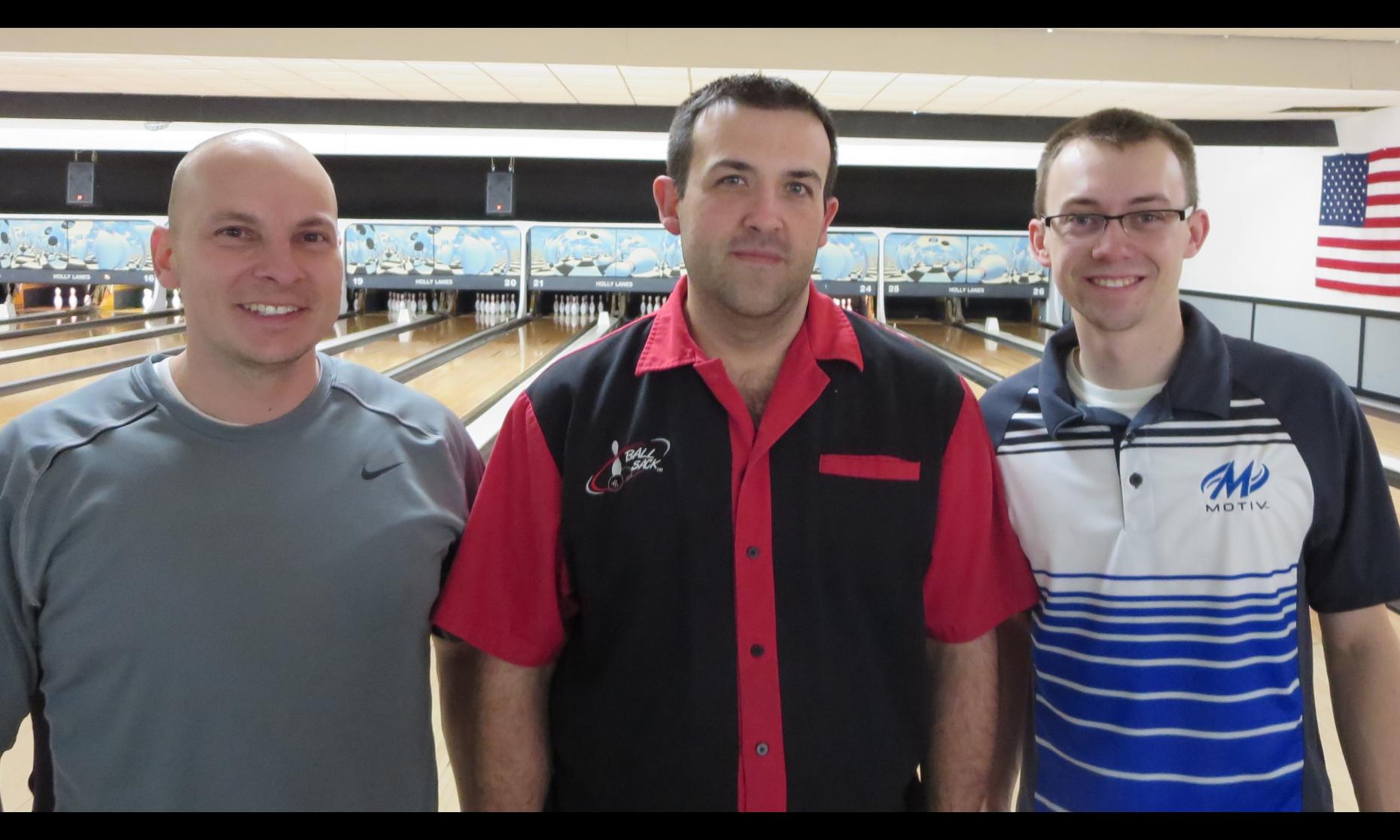 Runner-up MIke Keith, Proprietor Brian Aubuchon, and Champion EJ Tackett
Center:
Holly Lanes
Oil Pattern:
MSBS 40B (High Volume)
(40 feet)
Entry Fee:
$125
$3000 GUARANTEED TOP PRIZE



QUALIFYING SQUADS
***SQUADS A AND B ARE NOW COMBINED INTO ONE SQUAD, AND IT'LL START AT NOON ON SATURDAY***
Squad A -- Saturday @ 10am (limited to 44 entries)
Squad B -- Saturday @ 2pm (limited to 44 entries and squad may start late, but we want to start as soon as we the lanes are re-oiled)
Squad C -- Sunday @ 10am (limited to 66 entries)
Check-In -- Starts 1:15 before each squad
RE-ENTRY RULES
First time bowlers get first opportunity for C squad. Re-entries will be accepted based on qualifying scores (high to low) from previous squads. Walk-ins will not be allowed on Sunday unless spots are available, so first time bowlers wishing to compete on Sunday must sign up before the conclusion of B squad on Saturday.
FORMAT E
Qualifying: 6-games across 6 pairs of lanes.
Eliminator Rounds: The top 1/6 from each squad will qualify for Eliminator rounds. Round of 17 or more bowlers will consist of 3-games total pinfall. Rounds of 16 or fewer bowlers will consist of 2-games total pinfall. Pins do not carry over from one round to the next.
Prize Ratio: 1 in 4 entries will cash in this event. 39 bowlers would cash with 154 entries.
CONTACT
Brian Regan
cell (810) 240-6175
email brian@scratchbowling.com
11th place and higher qualified for Elimination rounds. Nick Kokenos already qualified in squad A, so his score became a cash spot instead of a qualifying spot in this squad.
The actual payout of this event will be posted here once the event has begun, and we know the number of entries.
Payout Scenario #1
Payout Scenario #2

80 entries
1st -- $3400
2nd -- $1700
3rd/4th -- $850
5th to 8th -- $450
9th to 15th -- $250
16th to 20th -- $150


Entry Breakdown $105 prizes, $8 expenses, $12 lineage
$105 x 80 entries = $8400
Total Payout = $11,400

154 entries
1st -- $4000
2nd -- $2000
3rd/4th -- $1200
5th to 7th -- $800
8th to 14th -- $430
15th to 27th -- $250
28th to 39th -- $150

Entry Breakdown $105 prizes, $8 expenses, $12 lineage
$105 x 156 entries = $16,170
Total Payout = $19,170
The optional side action results will be posted here at the conclusion of the tournament
OPTIONAL SIDE ACTION

Regular Jackpot--$25 entry

Each game:  $2 per entry goes to 1st

                  $1 per entry goes to 2nd
Totals:  $4 per entry goes to 1st
            $2 per entry goes to 2nd
            $1 per entry goes to 3rd
 

100% OF JACKPOT MONEY IS PAID OUT

Extra Totals Jackpots--$40 entry

3 additional Totals Jackpots will be available at $40 per jackpot.  Each Totals Jackpot will work as follows:

At least 1 in 4 will cash in each Jackpot

Payout is based on qualifying totals only

$35 per entry goes to prize fund, $5 to expenses

Brackets--$5/bracket
Set 1 will run for games 1-2-3
Set 2 will run for games 4-5-6
1st is $25 in each bracket
2nd is $10 in each bracket
- - - - - - - - - - - - - - - - - - - -
*there is no limit on the number of brackets that may be entered