35th Annual Bradley Open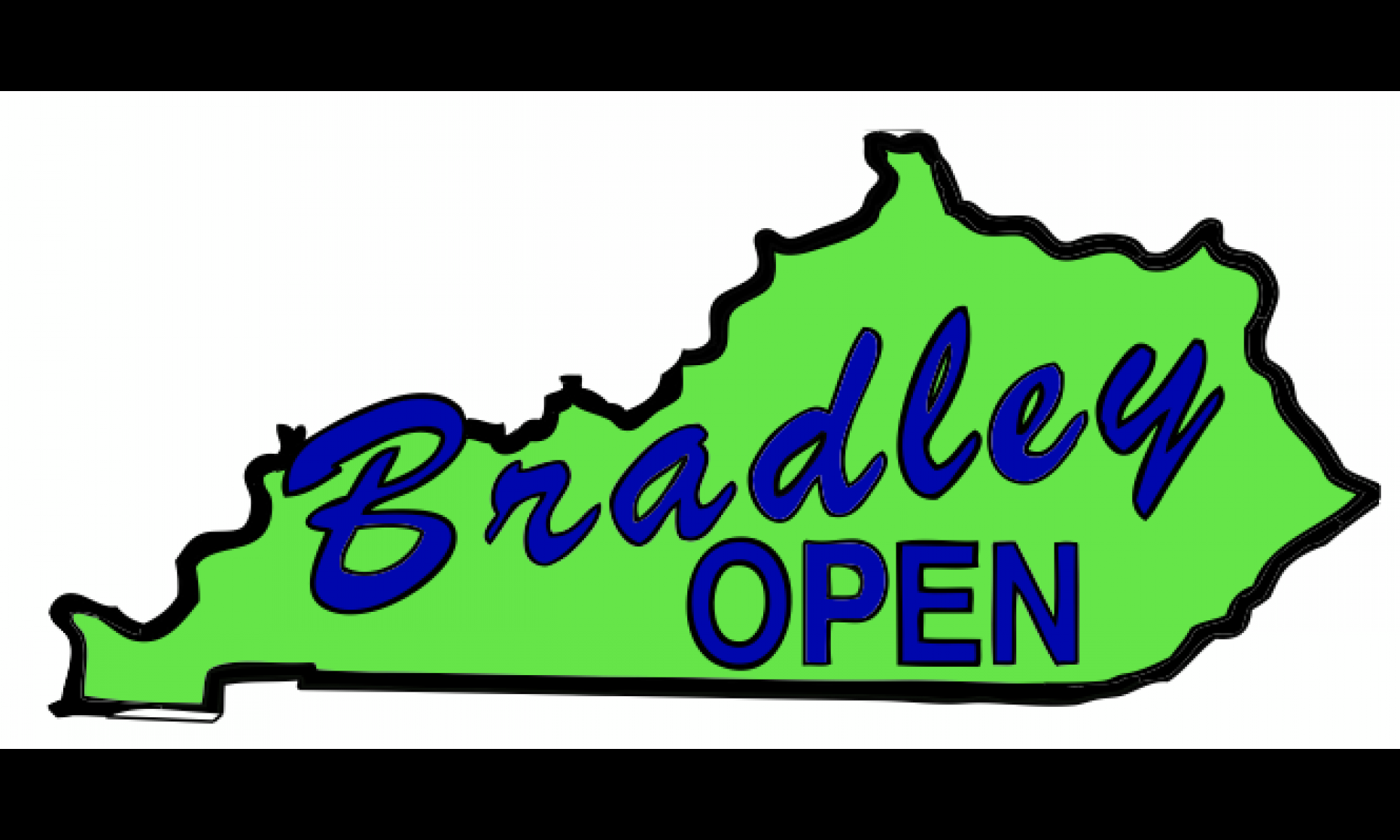 Center:
Collins Bowling Center Eastland
Oil Pattern:
TBA
Entry Fee:
$300
1st place guaranteed $10,000

plus entry into 2015 USBC Masters

<><><>Live scoring of this event will be available through SCRATCHBOWLING.COM, and Live streaming will be brought to you by MICHIGANBOWLER.TV<><><>

General Information

January 11th and 12th, 2014
A scratch, singles, sport bowling tournament
This event is open to ALL bowlers
Prize fund returned 100%
USBC youth members are also eligible to participate in this event, so long as their birthday is prior to August 1, 1997
Sanctioned by USBC
Brackets & Side Pots available
$100 DV8 High Game Award
$200 for high qualifier for each Saturday sqad

Entry and Squad Information

Entry fee -- $300
Re-entry fee -- $100
A Squad: Saturday 9:00am
B Squad: Saturday 1:00pm
C Squad (re-entries only): Saturday after B Squad
Prize Ratio: 1 in 5 entries will cash


***EARLY BIRD ENTRY FEE OF $250.00 AVAILABLE TO THE FIRST 75 ENTRIES. THIS RATE IS ONLY OPEN UNTIL
NOVEMBER 30TH,2013. BOWLERS WILL HAVE TO CALL IN AND RESERVE THEIR ENTRY OR PAY ON LOCATION.***

Format

Round 1
ALL entrants will bowl 5 games across 10 lanes, moving 5 pairs to the right after each game of qualifying on Saturday. The TOP 62 Bowlers from each squad will advance to ROUND 2. These scores are "NOT" carried over.

Re-entry Squad
After the completion of Squad B we wil be offering a Re-Entry squad for this years event. The Re-Entry Squad will be open to "ALL" bowlers who have already participated in Squads A or B. Bowlers will have to participate in either squad A or B to be eligible for the Re-Entry squad. Bowlers participating in the Re-Entry Squad will bowl 3 games, moving a pair to the right after each game. The TOP 8 bowlers with the highest 3 game pin count after the completion of the Re-Entry Squad will re enter the event for ROUND 2. These scores are "NOT" carried over.

Round 2
The Top 62 bowlers from each qualifying squad (A & B) plus the top 8 Re-Entry Squad bowlers will return Saturday night and bowl a second round of 5 games. The TOP 50 bowlers qualify for Sunday morning round.

Round 3
The TOP 50 bowlers from Saturday night bowl 5 games starting at 9 a.m. Sunday morning scores are carried over from ROUND 2, for a total of 10 games.

Finals
The TOP 8 bowlers qualify for Sunday afternoon`s single-elimination match-play (Best 2 out of 3). Scores from ROUND 3 are dropped before match play.

Sweeper Information

Friday Night 6:30pm Sweeper -- $50 entry fee
Friday Night 8:00pm Sweeper -- $50 entry fee

Registration

Hotel Information

Doubletree Suites -- $91 / night
Homewood Suites -- $95 / night

Entry Form
The top 50 bowlers from round 2 advanced to round 3 with pins carrying over from round 2. These bowlers will bowl 5 games starting at 9:00 Sunday morning. The top 8 bowlers after round 3 will advance to match play finals.
Match 1
Match 2
Match 3
Match 4
| Position | Bowler | Payout |
| --- | --- | --- |
| 1st | Tommy Jones | $10,000 |
| 2nd | John Szczerbinski | $5,000 |
| 3rd | Brandon Novak | $1,500 |
| 3rd | Tom Daugherty | $1,500 |
| 5th | Ronnie Sparks, Jr. | $800 |
| 5th | Dan MacLelland | $800 |
| 5th | Ricky Fuller | $800 |
| 5th | Tom Smallwood | $800 |
| 9th | Jason Sterner | $700 |
| 10th | Lee Vanderhoef | $600 |
| 11th | Brian Aldridge | $590 |
| 12th | Zeke Bayt | $580 |
| 13th | Daniel Farish | $570 |
| 14th | Michael Machuga | $560 |
| 15th | Darren Chaffin | $550 |
| 16th | Eric Cornog | $475 |
| 17th | Jeff White | $475 |
| 18th | Matt Jones | $475 |
| 19th | Lonnie Waliczek | $475 |
| 20th | EJ Tackett | $475 |
| 21st | Jay Foote | $450 |
| 22nd | EJ Smith | $450 |
| 23rd | Vernon Peterson | $450 |
| 24th | Steven MacLelland | $450 |
| 25th | Eric Grimes | $450 |
| 26th | Anthony Bowman | $400 |
| 27th | Kamron Doyle | $400 |
| 28th | Brian Himmler | $400 |
| 29th | Rick Hale | $400 |
| 30th | Chris Priode | $400 |
| 31st | Mike Conn | $375 |
| 32nd | Thomas Berish III | $375 |
| 33rd | Curt Guinn | $375 |
| 34th | Billy Carrithers | $375 |
| 35th | Matt Fitch | $375 |
| 36th | Aaron Martin, Jr. | $350 |
| 37th | Brian Waliczek | $350 |
| 38th | Walter Ray Williams, Jr. | $350 |
| 39th | Adam West | $350 |
| 40th | Seby Silvestri | $350 |
| 41st | Ken Abner | $325 |
| 42nd | Josh Mitchell | $325 |
| 43rd | Scott Newell | $325 |
| 44th | Derrek Patterson | $325 |
| 45th | Gary Faulkner | $325 |
| 46th | Bob Hale | $300 |
| 47th | Brian Wallace | $300 |
| 48th | Kirby Allen | $300 |
| 49th | Ricky Carroll | $300 |
| 50th | Shane Dunsing | $300 |
Total Payout: $38,725