December 21, 2013 - Streamwood Open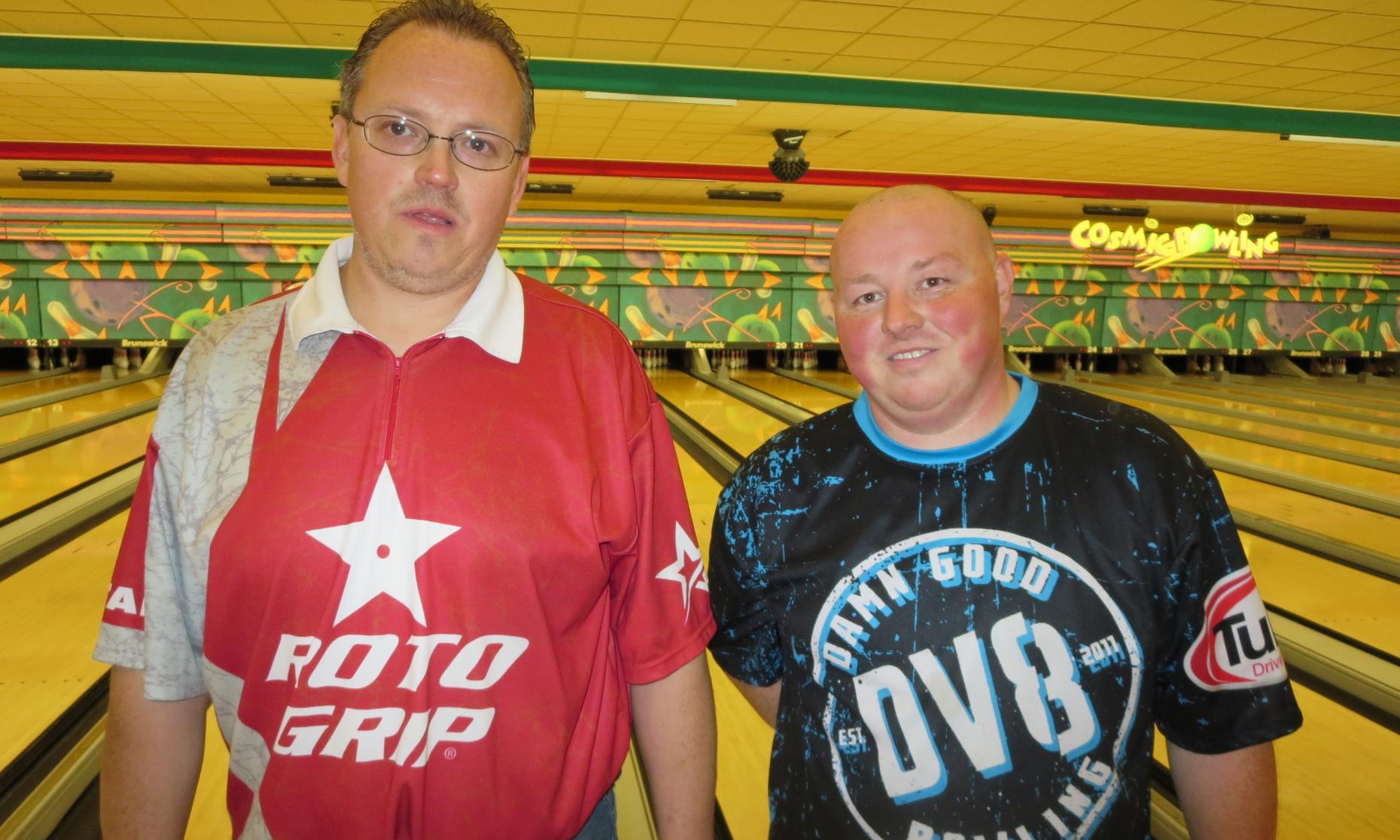 Champion Ron Nelson, Jr. with Runner-Up Jerry Marrs
Center:
Streamwood Bowl
Oil Pattern:
Kegel Kode Sport Series 2441
(41 feet)
Entry Fee:
$85
Check-in starts @ 10:30am, closes at 11:30am
Paddock @ 11:45am
Bowl @ Noon

Qualifying: 5-games across 5 pairs of lanes.
Match Play: Cut to top 16 (based on 64 entries), then bowlers are seeded into a bracket. 2-game matches until top 4 remain. Single game elmination match play for semi-finals and finals.

<>FIELD IS LIMITED TO THE FIRST 64 PAID ENTRIES<>

There will be no senior incentive or ladies incentive for this event due to the smaller limited field size. Also, there will be no live streaming unless we are able to raise sponsor money to cover the expense for this event.

Thank you to Brunswick for donating a bowling ball to the high qualifier of this event!!!

Contact Brian Regan to register (810) 240-6175, brian@scratchbowling.com
* Top 7 bowlers made the cut to match play. #1 seed Ron Nelson, Jr. receives a bye in the first round.
| Position | Bowler | Payout |
| --- | --- | --- |
| 1 | Ron Nelson, Jr. | $600 |
| 2 | Jerry Marrs | $300 |
| 3 | Jason Wojnar | $190 |
| 4 | Jesse Buss | $190 |
| 5 | Tracy Luncsford | $125 |
| 6 | Tyrus Bester | $125 |
| 7 | Kevin Kullman | $125 |
Game 1 ($42)
Ron Nelson, Jr. - 269
Game 2 ($42)
Ron Nelson, Jr. - 258
Game 3 ($42)
Ron Nelson, Jr. - 268
Game 4 ($42)
Nick Powers - 253
Game 5 ($42)
Ron Nelson, Jr. - 258
Totals ($50, $20)
1st - Ron Nelson, Jr. - 1284
2nd - Jesse Buss - 1071