March 17, 2015 - Paragon St. Patty's Day Sweeper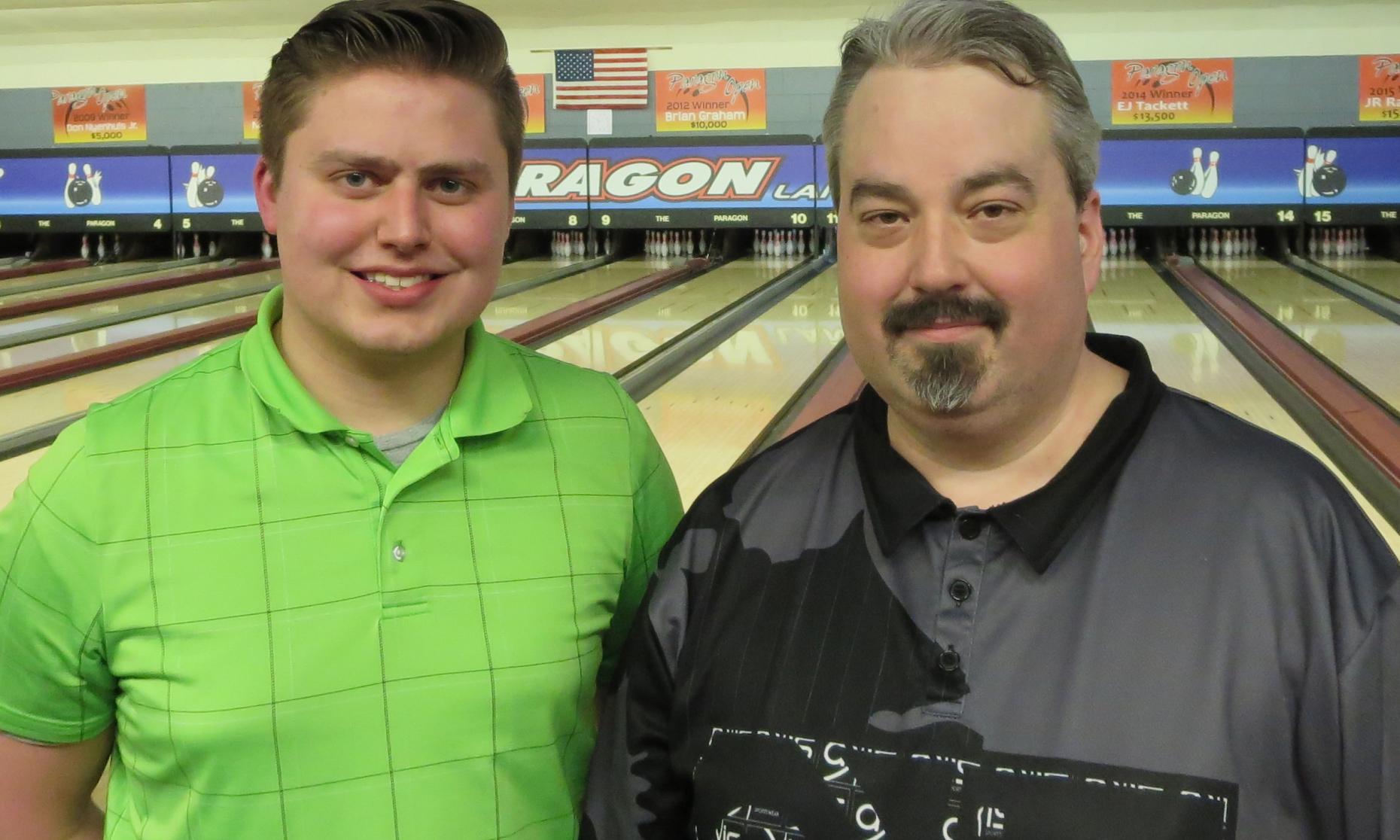 Champion Aaron Groendyk and Runner-up Brian Regan
Center:
Paragon Lanes
Oil Pattern:
USBC Open Championships Team (2015)
(38 feet)
Entry Fee:
$40

QUALIFYING
Squad A -- 7:00pm
Check-In -- 5:30pm to 6:45pm

FORMAT
Qualifying: 4-games across 4 pairs of lanes.
Match Play: Cut to top 12 (based on 48 entries), then bowlers are seeded into a bracket. Single-game elimination matches for those who qualify.
Prize Ratio: A minimum of 1 in 4 entries will cash in this event

FORMAT IS BASED ON A FULL FIELD OF 48 BOWLERS

CONTACT
Brian Regan
cell (810) 240-6175
email brian@scratchbowling.com
Match 1
Match 2
Match 3
Don Nyenhuis advanced by winning the 9th and 10th frame tiebreaker
Match 4
The actual payout of this event will be posted here once the event has begun, and we know the number of entries.
Payout Scenario #1
Payout Scenario #2

30 entries
1st -- $360
2nd -- $180
3rd/4th -- $90
5th to 8th -- $45


Entry Breakdown $30 prizes, $2 expenses, $8 lineage
$30 x 30 entries = $900
Total Payout = $900

48 entries
1st -- $500
2nd -- $250
3rd/4th -- $125
5th to 8th -- $70
9th to 12th -- $40

Entry Breakdown $30 prizes, $2 expenses, $8 lineage
$30 x 48 entries = $1440
Total Payout = $1440
OPTIONAL SIDE ACTION

Regular Jackpot--$10 entry

Each game:  $2 per entry goes to 1st

Totals:  $2 per entry goes to 1st

 

100% OF JACKPOT MONEY IS PAID OUT

Brackets--$5/bracket
Set 1 will run for games 1-2-3
Set 2 will run for games 2-3-4
1st is $25 in each bracket
2nd is $10 in each bracket
- - - - - - - - - - - - - - - - - - - -
*there is no limit on the number of brackets that may be entered