June 13, 2020 -- Colerain Bowl Cincinnati Challenge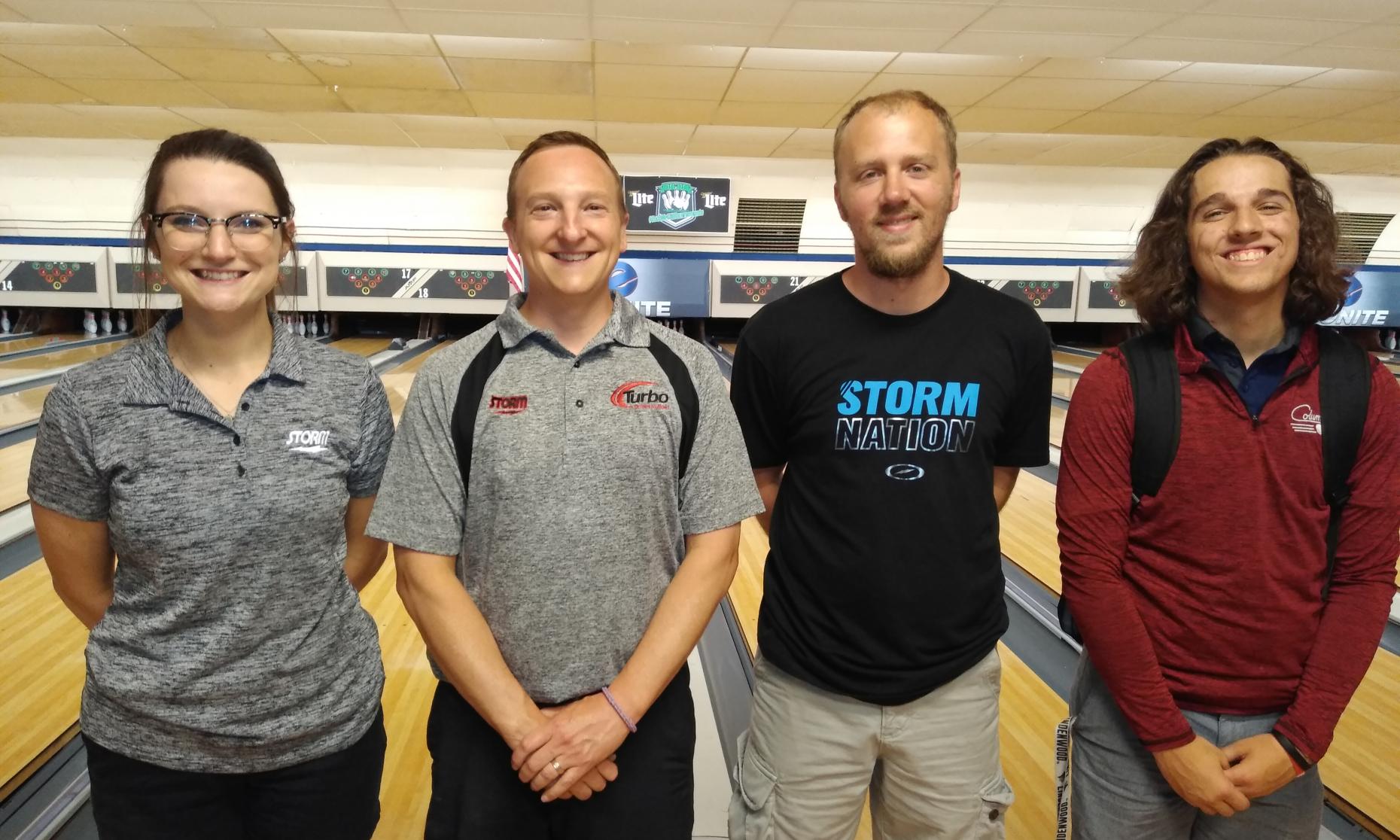 Center:
Colerain Bowl
Oil Pattern:
USBC Masters (2013)
(39 feet)
Entry Fee:
$60
HOTEL
Quality Inn
$69 if you mention the MSBS tournament at Colerain Bowl
QUALIFYING
Squad A -- 11:00am
Squad B -- 3:30pm
FORMAT
Format: Each squad will bowl 4 games across 4 pairs of lanes. Each squad will then bowl 2 rounds of eliminator for the top 1/4 of their respective squad. Then all remaining bowlers from the two squads will be added together for a 2-game eiminator round. Top 4 will bowl a 3-game round robin with bonus pins. Pins carry over from qualifying into round 1 and round 2 of eliminator. Pins will drop when we get all of the remaining bowlers together from the two squads. Pins will then carry over from the 2-game eliminator round and through the round robin finals.
FORMAT EXAMPLE
With 60 bowlers in A squad, the top 15 would then bowl a single game eliminator round to get to 8. Top 8 bowl one more single game eliminator round to get to 4. Top 4 come back later. Pins carry over for those 6 games and drop after those 6 games. With 90 bowlers on B squad, top 23 would then bowl a single game eliminator round to get to 12. Top 12 would bowl a single game eliminator round to get to 6. Top 6 would be combined with top 4 from A squad. Those 10 would bowl a 2-game total pinfall eliminator round to get to the top 4. Carry those pins over. Top 4 would bowl a 3-game round robin final round with bonus pins. The final 6 games plus bonus pins would determine the champion.
Prize Ratio: A minimum of 1 in 4 entries will cash in this event.
INCENTIVES (JUST ADDED)
Highest non-cashing lady will cash in this event with 3 or more ladies in the field
Highest non-cashing senior will cash in this event with 3 or more seniors in the field
FORMAT IS BASED ON A FIELD OF 150 TOTAL BOWLERS
MEMBERSHIP
We offer an optional $10 membership fee, and if you pay the fee and bowl in one MSBS event, you quailfy for the 2020 Sprummer Championship event. This event is scheduled to be the 2nd Saturday of September, but it will depend on if centers are allowed to host a full event at that time. 100% of membership fees goes toward this event, and we expect to have $4000 or more added from memberships!
RE-ENTRY RULES
This format is slightly different than the Bowlero Toledo sweeper. But both events added that middle eliminator rounds after each qualifier. That has thrown a bit of a wrench into our usual re-entry rules. So here's what we are going to do this time.
1) First dibs for B-squad will go to first time entries. First time entries will close promptly at 3:15pm for B squad.
2) Then we will go to the top of the list of bowlers who were eliminated from A squad, and we will go down from there to the bottom of those who didn't qualify.
3) This means bowlers will, in fact, be able to cash twice in this event.
CONTACT
Brian Regan
cell (810) 240-6175
email brian@scratchbowling.com
Match 1
Top 4 advance to the Round Robin Finals. These pins carry over.
Match 1
The 2 games from the semifinals carry over to this round. 5 games plus bonus pins determine final standings for top 4.
The actual payout of this event will be posted here once the event has begun, and we know the number of entries.
Payout Scenario #1
Payout Scenario #2

120 entries
1st -- $1300
2nd -- $650
3rd -- $450
4th -- $350
5th -- $220
6th -- $200
7th -- $190
8th -- $180
9-15 -- $120
16-30 -- $60
Lady -- $60
Senior -- $60



*Highest non-cashing lady will cash for $60 with 3 or more ladies in the field
**Highest non-cashing senior will cash for $60 with 3 or more seniors in the field

Entry Breakdown $45 prizes, $4 expenses, $11 lineage
$45 x 120 entries = $5400
Total Payout = $5400

216 entries (full)
1st -- $1800
2nd -- $900
3rd -- $710
4th -- $550
5th -- $300
6th -- $280
7th -- $270
8th -- $260
...14th -- $200
15-27 -- $120
28-54 -- $60
Lady -- $60
Senior -- $60


*Highest non-cashing lady will cash for $60 with 3 or more ladies in the field
**Highest non-cashing senior will cash for $60 with 3 or more seniors in the field

Entry Breakdown $45 prizes, $4 expenses, $11 lineage
$45 x 216 entries = $9720
Total Payout = $9720
OPTIONAL SIDE ACTION

Regular Jackpot--$10 entry

Each game:  $2 per entry goes to 1st

Totals:  $2 per entry goes to 1st

 

Super Totals Jackpot -- $40 entry

This is a totals jackpot that pays 1 in 4.  $35 to payout and $5 to expenses

 

100% OF JACKPOT MONEY IS PAID OUT

Brackets--$5/bracket

Set 1 will run for games 1-2-3
Set 2 will run for games 4-3-2
1st is $25 in each bracket
2nd is $10 in each bracket