December 13, 2013 - Royal Scot Sweeper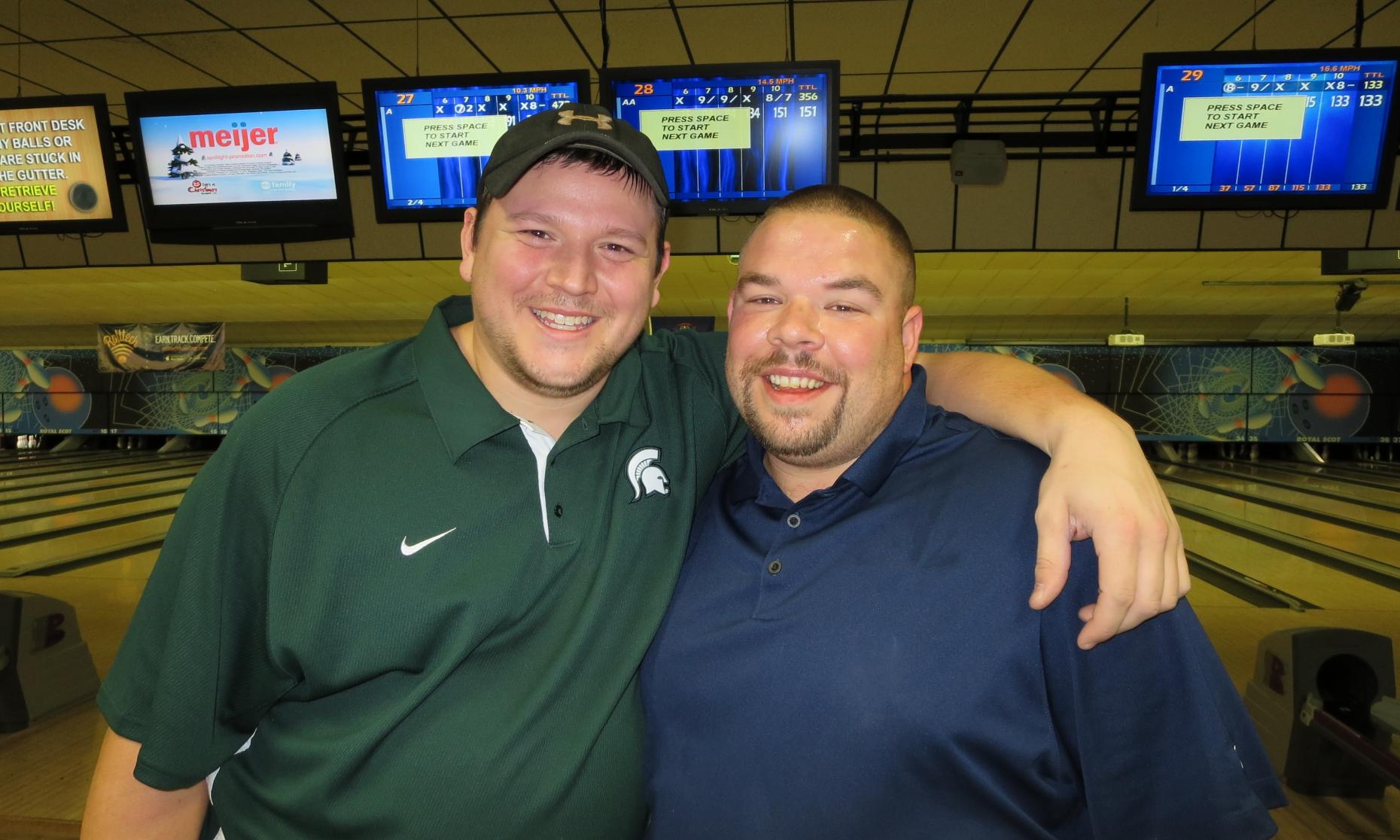 Champion Jason Rasinski and Runner-Up Michael Bradfield
Center:
Royal Scot Golf & Bowl
Oil Pattern:
BTM Baton Rouge (2012)
(39 feet)
Entry Fee:
$40
$40 entry fee (8 lineage, 2 expense, 30 prize fund)
Format: 4-game qualifier, cut to top 12 for match play (based on 48 entries)
Match Play: Seeded bracket, single game elimination (top 4 seeds get BYES in first round with a full field)
<><><> LIMITED TO 48 <><><>
All competition is scratch!
LIMITED FIELD! Please pre-register to save your spot!
Contact Brian Regan (810) 240-6175, brian@scratchbowling.com
Brought to you by MichiganBowling.com and the Midwest Scratch Bowling Series
Match 1
Match 2
Match 3
Match 4
| Position | Bowler | Payout |
| --- | --- | --- |
| 1 | Jason Rasinske -- Lansing, MI | $360 |
| 2 | Michael Bradfield -- Lansing, MI | $180 |
| 3 | Lon Peless -- Rockford, MI | $95 |
| 4 | Keith Young -- Lansing, MI | $95 |
| 5 | David Owens -- Lansing, MI | $50 |
| 6 | Larry Verble -- Mason, MI | $50 |
| 7 | J.R. Raymond -- Bay City, MI | $50 |
| 8 | Dan Pollak -- Grand Rapids, MI | $50 |
The optional side action results will be posted here at the conclusion of the tournament
OPTIONAL SIDE ACTION

Regular Jackpot--$10 entry

Each game:  $2 per entry goes to 1st

Totals:  $2 per entry goes to 1st

 

100% OF JACKPOT MONEY IS PAID OUT

Brackets--$5/bracket
Set 1 will run for games 1-2-3
Set 2 will run for games 2-3-4
1st is $25 in each bracket
2nd is $10 in each bracket
- - - - - - - - - - - - - - - - - - - -
*there is no limit on the number of brackets that may be entered